HAAS Auctions and Swap Meets
Topic starter
April 7, 2023 8:14 pm
May 13th is our Spring Swap. We can now start taking reservations for tables. We hope to have a more automated process in the future with new web site but still getting that set up. Let me know at the meeting if you are interested in table. Cost will be $15 for members and $20 for non-members for the first table and $5 off for any additional tables. So members two for $25 non-members 2 for $35. Admission is free for everyone. More information to come but also feel free to ask questions on here.
         Tim
Vendor registration information:
The club will provide the tables and electricity if needed. We recommend bringing extension cords if you do need electricity. Sometimes outlets aren't the closest. Sellers in the past have used usb air pump and battery banks to aerate their tanks if they bring them. But most sellers bring their livestock already bagged. 
Table pricing: $15 for members and $20 for non-members for the first table and each additional table is $5 less than that. Rental space cost of the tables will be taken at the day of the event. 
All transactions and payments are done at your table, the club does not provide cash or card processing services. So make sure you bring cash or use a service like PayPal or square to receive payments. 
Bring any promotional material you may have like signs or pricing guides to help your table stand out. 
To register to be a seller at the 2023 HAAS Swap, send an email to swap@kcfishclub.org
with the following info:
Name (Your Name or biz name): 
Are you a current paid member or plan on upgrading your membership to get the extra table discount?:

Where in the local area are you located? (For example: North KC; Topeka, KS; Columbia, MO):
How many tables you'd like?: 
Do you need electricity for pumps, heaters or lights?: 
Contact info: email, phone #, socials media:
Stock list: what you plan on bringing. (Good for advertising of your items!)
Once we get things confirmed we will add you to the list of vendors on our forum.
The event goes from 11:00 AM till 2:00 PM. You can arrive at 10:00 to set up your table(s).
This topic was modified 2 weeks ago by
kcmikey
Id like to reserve a table. How is this done?
Hey, join our 'Big Muddy Aquatics' group on BAND - The app for groups and communities!
https://band.us/n/aca685q8vckds
Our leadership team is meeting tonight to finalize details but basically, it will be like the 4 or 5 swaps. We will publicize pricing and how to request and pay for tables. We have almost an unlimited amount of tables, so we should be OK. Feel free to post on our forum of what you plan to have or what you are looking to find. More details to be posted by this weekend!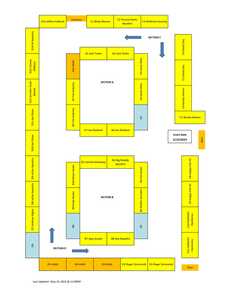 Finally have a tentative map of the table layout. It should be very similar to last year's event. Please understand that this may change up until the last minute, but this should be very close to how things are going to be laid out. If you have any questions feel free to email swap@kcfishclub.org. As we add more sellers this week, we will add them to the map. This is a PDF file which may be large for some folks. I'll look to convert it to a jpeg if anyone needs that. We will set up the tables Friday night. We will have a "final" update that evening unless we get some last second additions.
This post was modified 3 weeks ago 5 times by
kcmikey
Updated the drawing with a couple folks going from 1 to 2 tables. Currently, there are 5 tables left! 2 Days till set up 3 days till swap!!!!