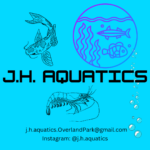 Joined: April 8, 2023 3:30 pm
Last seen: July 3, 2023 11:04 am
Hi y'all. I'm really into neocaridina shrimpkeeping/breeding, smaller fish, and whatever strikes my fancy in the aquatic fish/shrimp/snail/plant keeping hobby. I'm just getting started again after a long hiatus, but I'm back better than ever and eager to grow at a sustainable rate. 
Instagram: @J.H.Aquatics
JH Aquatics Facebook Page:  Aquatic plants; homebred fish and shrimp.
https://www.facebook.com/profile.php?id=100093164359440
Youtube:
https://www.youtube.com/@J.H.Aquatics
Please message me to ask questions about plants, shrimp, fish, and place orders. Available for pickup in Overland Park or regularly at the KC Fish Club/Heart of America Aquarium Society. 
-Jessica with J.H. Aquatics