The Fish Room - Ideas, Tips and Tricks
Topic starter
July 10, 2023 11:22 pm
I have an opportunity to actually put some thought into designing my fish room as I rebuild it. I hadn't put much thought into accessing the tanks, power, water supply, efficiency, etc. I just put up some shelves, some tanks and called it a day.
So I am looking for things to consider and any suggestions at all as I work on the project. 
(First thing that came to my mind was to take out a wall and make it bigger. 😆 )
access to tanks is key. My biggest regret is that heights in my room are such that it is hard to get larger items or even specimen containers into some tanks. Also lights, less algae issues and better access if you can hang lights above tanks vs. sit on top of tank. Just a couple thoughts. My space is small and on a tight budget, welcome to stop by sometime if you want ideas.
       Tim
make space to organize things in, having aquarium supplies in different places makes it harder to find things you need easily. Buy power strips with a few inches of space between each outlet. there are a lot of different types of plugs out there and there's nothing more aggravating than not being able to plug something in because something else is blocking the outlet. I build my own shelves and each version is an improvement on the previous, one thing that has always changed is the height between the tank and the shelf above it. I try to leave at least a foot between tank and shelf now. gives me the the most space to move my tools in and out off. 
Topic starter
September 3, 2023 10:11 am
@tim what kind of space do you think you need between shelves/tanks? Or generally around the tank.
Also, how low do you put the bottom tank?
Topic starter
September 3, 2023 10:16 am
@julianaquatics  I tried separating out my stuff in tool boxes and has been an epic fail. Stuff is all over because it's not contained . Any other suggestions?
Are you using dimensional lumber for your shelving? I've seen the concrete block thing but it ends up taking up precious floor space.
Topic starter
September 3, 2023 10:26 am
This isn't really a fish room thing other than what to do while you're building. I bring this up because I finally get to fix my house from the HOA thing (lawsuit). I have 2 full exterior walls and the ceiling that the drywall and insulation needs to be removed, some flooring removed and mold remediation. I'll be homeless for a month or so.
This much easier for me and my dog to do but I'm not sure what to do withe the fish and shrimp. Do I need to find them "sitters" or is there a way for me to safely keep them and maintain them in a construction zone?
September 3, 2023 3:38 pm
I had some at 5 inches and some at 7 inches. I definitely wouldn't do the 5" again 7 is about right and minimum I would do. More space is better but if your trying to do tanks 3 high you don't want top one too high to work in.
I currently have tanks at ground level or only about 3" off the ground. It works but probably wouldn't do that again either because those tanks tend to get neglected because it is hard to see the fish. Also that is better space for storage. The last rack I added was shorter with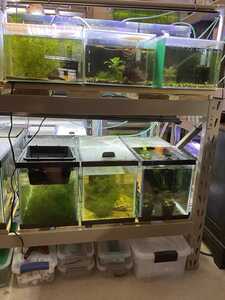 tanks just two high but used space for storage which works really good. Attached picture
       Tim
September 3, 2023 4:17 pm
@thefishlady I have a variety, mostly 10 and 20long but also some 2.5, 29, 20High, and a couple 40 breeders
      Tim
September 3, 2023 5:20 pm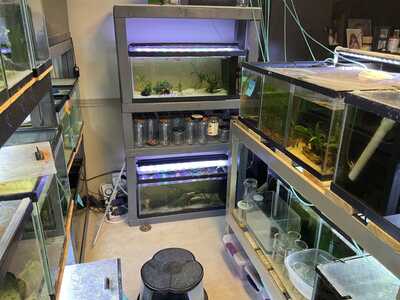 Those are 10 gallon on the bottom facing long way and 2.5 on the top. It is a 30" wide rack so I have 10 gallon long way and 2.5 back to back. The opposite side is just the reverse with the 10 on top and 2.5 on bottom if that makes sense. I use 2.5 for bettas or very small fry. I am attaching pictures of rest of space. I have about 40 aquariums in a very limited space. It's a little messy I'm in the middle of working on a few things but you can at least see the layout a little.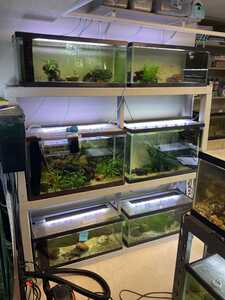 Tim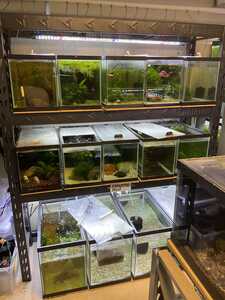 September 4, 2023 1:02 pm
I was recently thinking of adding a few more tanks...but an issue I ran into, weight of tanks on floor. My house sits on 4 ft crawlspace..so how many pounds is it safe to set up in small bedroom???
add weight of tank, gravel, water, stands/racks/concrete blocks.. that's a lot of weight in a small area. I can certainly add jacks/supports to the floor joists under that room, but to what cost and effort?? also what about the wood flooring.. if your room is on slab go for all you can,, but I certainly agree get the bottom row up off the floor as definately too hard to work on,, even the regular aquarium stand height.
September 4, 2023 6:37 pm
@doryfish1021 I would probably add supports in your crawlspace, it'll also future proof your home for more aquariums down the road. its probably not the cheapest, but cinderblocks would probably be enough. that's just my theory. I live on second floor, and have 6 aquariums and 3 ponds on one side of the wall, and things seem fine now. I dont plan on adding anymore in that space. I do have smaller tanks, under 20g, so maybe the weight distribution plays a role in how much pressure is applied to your floor. one big aquarium probably has a bigger downward force, than smaller aquariums across a wider area. 
Topic starter
September 18, 2023 2:40 pm
Lids/tops
What do y'all do for aquarium lids.  I'm constantly fighting with them.
Marcey
September 19, 2023 10:26 pm
I use glass panels for my rimless aquariums, and for 20L I use greenhouse paneling cut down to size. a big sheet 4'x8' is reasonably priced. I bought one off amazon a while back and it was 60, I cut 4+ lids out of one panel.